About Varanasi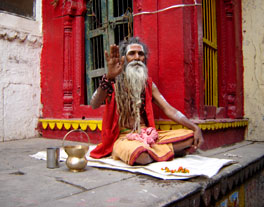 Varanasi, the holy city of India, is also known by the name of Kashi and Benaras. Kashi, the city of Moksha for Hindus since centuries, is known for its fine-quality silks, 'paan' and Benares Hindu University and Avimukta of the ancient days, Varanasi is the most popular pilgrimage point for the Hindus. One of the seven holiest cities, Varanasi city is also one the Shakti Peethas and one of the twelve Jyotir Linga sites in India. In Hinduism it is believed that those who die and are cremated here get an instant gateway to liberation from the cycle of births and re-births. Considered as the abode of Lord Shiva, Varanasi is situated on the banks of River Ganges, which is believed to have the power of washing away all of one's sins. As pundits here will tell you, whatever is sacrificed and chanted here or given in charity reaps its fruits thousand times more than those good deeds performed at other places because of the power of that place. It is believed that three nights of fasting in Varanasi city can reap you rewards of many thousands of lifetimes of asceticism!
HISTORY
The land of Varanasi (Kashi) has been the ultimate pilgrimage spot for Hindus for ages. Often referred to as Benares, Varanasi is the oldest living city in the world. These few lines by Mark Twain say it all: "Benaras is older than history, older than tradition, older even than legend and looks twice as old as all of them put together". Hindus believe that one who is graced to die on the land of Varanasi would attain salvation and freedom from the cycle of birth and re-birth. Abode of Lord Shiva and Parvati, the origins of Varanasi are yet unknown. Ganges in Varanasi is believed to have the power to wash away the sins of mortals.
Ganges is said to have its origins in the tresses of Lord Shiva and in Varanasi, it expands to the mighty river that we know of. The city is a center of learning and civilization for over 3000 years. With Sarnath, the place where Buddha preached his first sermon after enlightenment, just 10 km away, Varanasi has been a symbol of Hindu renaissance. Knowledge, philosophy, culture, devotion to Gods, Indian arts and crafts have all flourished here for centuries. Also a pilgrimage place for Jains, Varanasi is believed to be the birthplace of Parsvanath, the twenty-third Tirthankar.
Vaishnavism and Shaivism have co-existed in Varanasi harmoniously. With a number of temples, Mrs. Annie Besant chose Varanasi as the home for her 'Theosophical Society' and Pandit Madan Mohan Malviya, to institute 'Benares Hindu University, the biggest University in Asia. Ayurveda is said to be originated at Varanasi and is believed to be the basis of modern medical sciences such as Plastic surgery, Cataract and Calculus operations. Maharshi Patanjali, the preceptor of Ayurveda and Yoga, was also affiliated with Varanasi, the holy city. Varanasi is also famous for its trade and commerce, especially for the finest silks and gold and silver brocades, since the early days.
Varanasi has also been a great center of learning for ages. Varanasi is associated with promotion of spiritualism, mysticism, Sanskrit, yoga and Hindi language and honored authors such as the ever-famous novelist Prem Chand and Tulsi Das, the famous saint-poet who wrote Ram Charit Manas. Aptly called as the cultural capital of India, Varanasi has provided the right platform for all cultural activities to flourish. Many exponents of dance and music have come from Varanasi. Ravi Shankar, the internationally renowned Sitar maestro and Ustad Bismillah Khan, (the famous Shehnai player) are all sons of the blessed city or have lived here for major part of their lives.
CLIMATE / WEATHER
Situated in Uttar Pradesh, in northern part of India, Varanasi is located on the banks of the holy river, Ganges. During summers, weather can be as hot as 45 °C and humid too as Varanasi lies at the Tropic of cancer. Torrential rains and high humidity accompanies the monsoons that usually come in late June or early July for about two months. Delicious and juicy mangoes offer little relief from the sweating weather. On the other hand, winters are pleasant and temperature dips down to about 7 °C. In Varanasi, the climatic conditions are most favorable for the tourists between October to April. For those who are ready to face a sun and don't mind the odor of sweat, Varanasi is a place to visit all the year round.
ART & CULTURE
The art and culture of Varanasi is unique. It is the rich cultural tradition of Varanasi that makes it the cultural capital of India. A combination of archaeology, mythology, geography, art and history makes Varanasi a great center of Indian culture. Though Varanasi is associated mainly with Hinduism and Buddhism but one can find glimpse of many religious beliefs, types of worship and religious institutions at Varanasi. It is amazing to see the primitive worship cults being practiced at Varanasi.
Varanasi presents a complete museum of Indian art and culture. At Varanasi one can feel the changing patterns and movements in course of history. It has a rich and unique style of art forms and folk art. For centuries, Varanasi has produced master craftsmen and earned name and fame for its beautiful Sarees, handicrafts, textiles, toys, ornaments, metal work, clay and woodwork and other crafts.
Music, drama and entertainment are all synonymous with Varanasi. Benaras has long been famous for its music, both vocal and instrumental and has its own dance traditions. Add to this, Varanasi has a very rich stock of folk music and drama (esp. Ramlila), fairs and festival and the rich tradition of akharas, games and sports. All these combine together to give a distinct look to the city of moksha, Varanasi.
HOW TO REACH
Varanasi is the cultural capital of India and the melting pot of Indian civilization. Varanasi or Benaras has a well-developed transport network and is well connected to all the major Indian cities and states by air, road and rail.
By Air: Varanasi is well connected and accessible to major Indian cities and tourist spots. There are daily domestic flights to and from Varanasi to several cities in India. Apart from the state owned Indian Airlines, there are many private air taxi operators that offer their services from Varanasi to other Indian cities. In fact, the daily flights on Delhi-Agra-Khajuraho-Varanasi route are quite popular among the tourists.
By Rail: Since Varanasi lies in the heartland of the North Indian plains, it is well connected to Delhi, Kolkata, Mumbai and other parts of India. There are two railway stations in Varanasi, the Kashi Junction and the Varanasi Junction (also known as Varanasi Cantonment). Rajdhani Express from Delhi or from Calcutta passes through Varanasi too. One can also catch trains from Mughalsarai, just 10 km south of Varanasi.
By Road: Situated in the flat Ganga plains, Varanasi has a good network of roads. frequent public and private buses and road transport to all the major towns of Uttar Pradesh and nearby areas.
MAP OF VARANASI: