Trip Planning
Information for visitors arriving at Indian airports from abroad.
How to clear customs
Pre-paid taxi service
Smart safety tips and travel advice for touring India.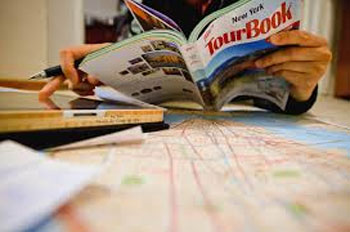 The majority of foreign tourists arrive in India by air. The majority of tourists traveling to India land in New Delhi. English is spoken by almost all government officials present at Indian airports. If you speak the English language, then you should have no communication problems at the airport.
All foreign passport holders arriving in India are required to fill in an 'Arrival Card' for immigration/customs clearance. This must be presented to Immigration officer. Before you leave the immigration counter, when the immigration officer returns your passport to you after examining it. Make sure that the immigration officer has stamped your passport with an arrival stamp. This will help avoid problems later when you are leaving India
I have found that India is one country, where they sometimes x-ray luggage of arriving passengers. If this happens to you, do not be alarmed. Luggage carts are available at the airport free of charge. On some occasions there are no carts available due to the volume of passengers in the terminal. However if you wait for a short time, carts are periodically brought in from outside.
I have heard of some people trying to offer carts to tourists for a tip. Carts are provided free by the airport authority of India and there is no need to pay someone for getting you a cart. In fact some workers are actually hired by the authorities to help passengers who may need assistance removing their luggage from conveyor belts and loading their luggage on the carts.
Currency exchange counters are available at the airports. If you wish to exchange currency at the airport. Do not go past customs, as currency exchange counters of a few banks are located inside the terminal and once you go past customs, you cannot go back to the currency exchange counters.When exchanging foreign currency for Indian Rupees keep the exchange receipt as this will help you to reconvert unspent Indian Rupees back to your original currency when you leave India. Always get a receipt when converting foreign currency.
In case you have to make train reservations for travel within India. There is a counter available that helps foreigners with railway bookings. Please check our train reservations page for more details.
Arriving in India by Air the first time - Customs - Immigration Information
The most popular arrival points in India from abroad are New Delhi, Mumbai, Chennai (formerly called Madras) or Kolkata (formerly called Calcutta). The airport in New Delhi is called Indira Gandhi International Airport while the Mumbai international airport is named the Sahar International Airport. The Kolkata airport is called the Netaji Subhash Chandra Bose airport.
Red & Green Exits from Indian Airports
When exiting the international airports in India after clearing the immigration counters. Indian international airports have two exits known as the RED and GREEN sides.
The Red route is used if the passenger has dutiable items to declare at customs, where as the Green route is to be used if the passenger has no items that would require customs duty is to be paid. In case you find your self in a situation where something you brought along for your own use and are asked to pay customs duty on the item. You should advise the customs officer that the item will leave with you when you depart In such cases the normal procedure is for the customs officer to make an entry on your passport to insure that the item is taken back when you leave. This way you need not pay duty on goods that you have taken for your own use.
Before leaving the airport it is advisable to inspect your checked in luggage for visible damage that may have occurred. If this is the case then report the damage before you leave the airport. The airline is responsible for damage en route but you should report damages before leaving the airport.

Taxi Service at Indian Airports - Prepaid Taxi Indian Airports: On arrival do not go out of the airport and hire a taxi. Go to the prepaid taxi booth at the airport. After arriving at the Indira Gandhi Airport in Delhi. As soon as you go out from the airport (gate number 2) you will see the PRE PAID TAXI sign with an arrow pointing to the pre-paid taxi office.
As you walk out of the terminal, the left side takes you out of the airport while on the right side is the prepaid taxi booth. Here travelers can pay the taxi fare to their destination according to a preset government approved fare chart. Travelers are issued a taxi voucher to their destination and on reaching their destination they hand over the voucher to the taxi driver.
When taking a prepaid taxi from the airport there is also a paper trail of where the taxi driver is taking the passenger and this information is recorded by the police as the taxi leaves the airport. This is a safety measure for passengers traveling by prepaid taxis.
Having paid the fare at the airport also ensures that there is no haggling over the price with the taxi driver and not having to convert currency when you reach your destination.
The better class hotels provide airport pickup as an option when making reservations. The charge for hotel pick up is usually 500 to 600 Rupees depending on the car used. This charge includes a 4 hour wait at the airport for the passenger. In case more time is required due to late arrivals etc there is an additional per hour charge of approximately Rupees 100 per hour. Having a hotel car pick you up is the best and safest option as from experience I have found that most international flights arrive in India late at night.
After clearing immigration you will enter the arrival area where your bags are brought out. Expect a delay here usually as India is for some reason the only place I have seen where incoming bags that have been through security before loading on planes are sometimes x-rayed before being sent to the terminal for passengers to pickup. After picking up your bags as you go out from the terminal. If you have chosen to go out from the green channel there is a chance you may be flagged for a random customs check. If you do have items to declare, use the Red channel exit.
PLEASE NOTE:
Immediately outside are the taxi stands for pre-paid taxi service. In case you need to exchange currency you need to do it before you exit the airport.
Money exchange booths are inside the airport and not outside.