About Us
Namaste! - "We Indians fold our hand in Namaste before you, because we think that God resides in every Human Being."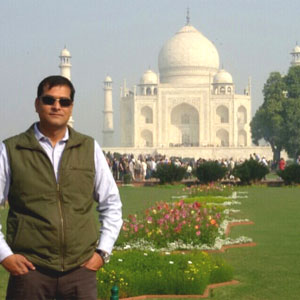 The role of tour guide for tourism is "Tourist guides are the front line tourism locals professionals, who act as good-will ambassadors to throngs of domestic and international visitors who visit our cities and our nation"
I am Mohd. Shahnawaz. Khan & I have been working as a Govt. Approved Professional local tour guide in Agra since 2001, with my associate team of guides. Our venture is being patronized by many 5 star and other leading hotels, embassies and foregin missions, multi-national and Indian companies, travel agents, tour operators and excursion agents etc. I have been giving tour guide services to FIT & Group Tourist, VIP & Corporate Guests with their excellent rating and reviews Click here to read guest reviews with my associate tour guides. I have Tourist Guide License by Ministry of tourism & culture, Govt. of India. As well as, I am professionally qualified, M. A in history & Post Graduate Diploma in tourism management, from Agra university , I usually receive comments "excellent service" by my clients . I am resident of world famous city of the TAJ MAHAL, Agra. I have all qualification to serve you as a the best TOUR GUIDE IN AGRA as well as I can customize tours and can arrange car/coach, hotel rooms as per your needs & desire.
I enjoy reading books of historical importance and I try to serve my guests better after every tour. My belief is that every traveler should be personally taken care of, and I give full attention to my guests.
Apart from sightseeing, I make sure that other necessary aspects like proper lunch etc are also taken care of properly. Once you book any tour, it will always be a tailor made tour, planned according to your interests.
I love to meet people, traveling and collecting the facts & figures on art, architecture & culture from those I have worked with my guest from all over the world so that's why I have very good knowledge of culture, art, craft and architecture etc. and I hope after visiting with me, you'll go back with unforgettable sweet memories of the mini world 'INCREDIBLE INDIA'
QUOTES ABOUT INDIA
"India is, the cradle of the human race, the birthplace of human speech, the mother of history, the grandmother of legend, and the great grandmother of tradition. Our most valuable and most instructive materials in the history of man are treasured up in India only."
Mark Twain (American author)
"If I were asked under what sky the human mind has most fully developed some of its choicest gifts, has most deeply pondered on the greatest problems of life, and has found solutions, I should point to India".
Max Mueller (German scholar)
"If there is one place on the face of earth where all the dreams of living men have found a home from the very earliest days when man began the dream of existence, it is India."
Romain Rolland (French scholar)
"It is impossible not to be astonished by India. Nowhere on Earth does humanity present itself in such a dizzying, creative burst of cultures and religions, races and tongues. Enriched by successive waves of migration and marauders from distant lands, every one of them left an indelible imprint which was absorbed into the Indian way of life. Every aspect of the country presents itself on a massive, exaggerated scale, worthy in comparison only to the superlative mountains that overshadow it. It is this variety which provides a breathtaking ensemble for experiences that is uniquely Indian. Perhaps the only thing more difficult than to be indifferent to India would be to describe or understand India completely. There are perhaps very few nations in the world with the enormous variety that India has to offer. Modern day India represents the largest democracy in the world with a seamless picture of unity in diversity unparalleled."
A Rough Guide to India
Contact Us for your Private Guided Tours.