About Khajuraho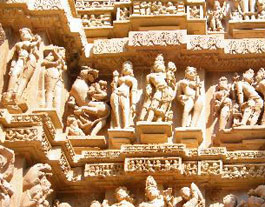 Khajuraho is located in Madhya Pradesh, which is known as the land of great antiquity. Madhya Pradesh is the home of monuments representative of various periods of history. Among most popular world heritage sites of Central India like Rock paintings, Buddhist Stupas and Temples, Khajuraho is known for its ornate temples that are spectacular piece of human imagination, artistic creativity, magnificent architectural work and deriving spiritual peace through eroticism.
HISTORY:
Khajuraho Temples are among the most beautiful medieval monuments in the country. These temples were built by the Chandella ruler between AD 900 and 1130. It was the golden period of Chandella rulers. It is presumed that it was every Chandella ruler has built atleast one temple in his lifetime. So all Khajuraho Temples are not constructed by any single Chandella ruler but Temple building was a tradition of Chandella rulers and followed by almost all rulers of Chandella dynasty.
The first recorded mention of the Khajuraho temples is in the accounts of Abu Rihan al Biruni in AD 1022 and the Arab traveler Ibn Battuta in AD 1335. Local tradition lists 85 temples in Khajuraho out of which only 25 temples are surviving after various stages of preservation and care. All these temples are scattered over an area of about 9 square miles.
Khajuraho is believed to be the religious capital of Chandellas. Chandella rulers had tried to discriminate politics from religious & cultural activities, so they established their political capital in Mahoba which is about 60km. away from Khajuraho and religious/cultural capital in Khajuraho. Whole Khajuraho was enclosed by a wall with about 8 gates used for entry/exit. It is believed that each gate is flanked by two date/palm trees. Due to these date trees present Khajuraho get its name Khajura-vahika. In hindi language, "Khajura" means 'Date' and "Vahika" means 'Bearing'. In history Khajuraho is also described with the name of Jejakbhukti.
After fall of Chandella dynasty (after AD 1150), Khajuraho Temples suffered destruction & disfigurement by muslim invaders in this area which forced local people to leave Khajuraho. As muslim invaders had a ruling policy of intolerance for worship places of other religions so all the citizens of Khajuraho left the town with a hope that its solitude will not attract attention of muslim invaders into the temple area and in this way both temple and they themselves will remain unhurt. So from about 13th century to 18th century, Khajuraho temples remain in forest cover, away from popularity till it was re-discovered by British engineer T. S. Burt.
HOW TO VISIT:
Khajuraho is easily accessible by air, rail and road. The nearest railway stations to Khajuraho are located at Jhansi (175 kms) . Satna and Jhansi also connect to Khajuraho by road and there are regular bus services available. It takes 5-6 hours by bus and 3-4 hours by car to reach Khajuraho. This place is connected by road to other towns in India too. Within Khajuraho you can easily find local cabs and rickshaws to travel.
CLIMATE / WEATHER:
The summers at Khajuraho are pretty hot, with the mercury soaring up to very high levels (47 °C). On winter nights, the mercury dips to low levels (4 °C). The best time to visit Khajuraho is between September and March.
THINGS TO DO:
The following are some activities which are a must to do according to various city guides for Khajuraho:
Sound and Light Show: This is a great option for people who seek such experiences and are history enthusiasts. Timings are 6:30 P.M. To 8:30 P.M. everyday.
Jungle Safari at Panna National Park: This is an exceptional experience for nature lovers, photographers, and adventure seekers.
Shilpgram and Mrigyananni: Perfect for shopaholics! Open everyday from 9 A.M. To 10 P.M.
Arhanta Yoga Ashram: If you're interested in the ever changing science of Yoga and meditation, then this the place for you. It is open everyday from 5:30 A.M. To 8:30 P.M.
Kandariya Art and Culture: The performance, given by maestros and young talents of Indian classical dance, is a lyrical tribute to Gods and Goddesses enshrined in the temples as well as a celebration of the richness of Indian classical dance forms.
The Khajuraho Dance Festival: It is well known and is held from 25th February to 2nd of March every year, and is a must among other things to do in Khajuraho. The festival is conducted in front of the Chitragupta temple in the Western group. The dance festival brings together famed artists from all over India and has been conducted every year since its inception in 2002.
MAP OF KHAJURAHO: